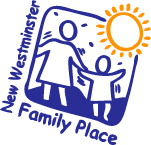 Rounding out the New Westminster-based non-profit organizations that my students worked with this semester is New Westminster Family Place, which is "a community hub where families access support, opportunities for engagement, and community resources."
They run a variety of programs for families with children, including arts, cooking, and nature-based programming, and have drop-in locations around the city. As a community hub, they bring families together so that parents can connect with other parents, children can enjoy a variety of activities and learn social skills – and it's all free for families!
As we hear more and more about the negative effects of social isolation on mental and physical health, I think that an organization like New West Family Place, which provides opportunities for engagement and community building is well worth supporting!