What's Been Amusing Me in the Twittervese Lately
It's been a year and a half since I shared my favourite tweets, so I figured it was time to check out what's been amusing me in the Twitterverse.
Given the year that was 2016, quite a few of my favourites were related to politics:
For some of the politics ones I feel like I need to provide context, as they might seem quite nonsensical without it. Like this one in response to then-candidate for the Republican nomination Ben Carson's claim that the Egyptian pyramids were built to store grains, rather than to bury pharaohs:
At the Republican national convention, Melania Trump gave a speech in which she plagiarized a speech by Michelle Obama. When Donald gave his speech, this guy made this pithy remark:
The next two are related to people's responses to Trump's misogynistic comments related to how he can sexually assault women and they just let him because he's famous; many politicians and pundits said things like "as a father of a daughter, I am offended" or "as a husband of a strong women, I am appalled":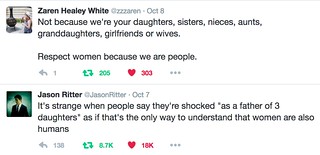 This next one collides politics with another thing that happened in 2016: the fact that there were a reboot of the Ghostbusters movie with all female leads (and people got all pissed off about that):
Shortly before the election, someone smashed Trump's star on the Hollywood Walk of Fame1 and this was George Takei's response:
In response to Russia's interference in the US election:
And in probably my favourite of all the political tweets was this one that came during the second presidential debate. Donald Trump, in one of his examples of islamophobia and racism, was ranting about Muslims being terrorists and how Muslims need to report people whose behaviour is suspicious, and, in reference to earlier in the debate when Donald was menacingly standing behind Hillary Clinton on the debate stage, was this brilliant tweet:
Moving on to less political things, there were a few hashtags that amused me, including #scienceamoviequote:
and #HarperAirport (when it was proposed that Calgary airport be re-named after the much loathed former Prime Minister Stephen Harper):
That last one refers to these really terrible radio ads the Conservatives ran during the election that said Justin Trudeau was "just not ready" to be Prime Minister.
This next one refers to Bill C-51, an "anti-terrorism law" that gives the government sweeping powers to invade people's privacy that was brought in under the Harper government:

A tonne of my favourite tweets over the past year and a half have come from the account "Shit Academics Say":
A few have a feminism theme::
And several have cats in them:
And then there is a whole bunch of random stuff:
For the record, I have *no* idea what campaign that tweet refers to. Dr. Dan, do you remember?
I quite liked Jen's response to this tweet of mine (see below):
And this one was fun because my friend Cath was reading the interwebs one day and discovered I was internet famous:
And there's even a few of my own that I favourited, because I amuse me (and I didn't want my best tweets to disappear into the bottomless pit that is Twitter and my terrible inability to remember stuff)
First, one that would only appeal to nerdy scientists who also like Pokemon (so, basically, only me and Cath):
Then there's one I thought hilarious and apparently at least one other person agreed:
And finally one that I tweeted, but was actually a quotation from my sister, so she get the credit of the hilarity of this one:
Aside: I can't believe Trump had a star and Carrie Fisher didn't! [↩]
Comments |0|