My Week 1 Hotties
Since the NHL regular season starts tonight (huzzah!), I had to pick my players for Cath's fantasy hockey pool last night. The pool is a little different than the one I was in last year, where there was a draft and then that was your team for the whole year. In the pool I'm in now, the rules are a little more complicated.
The Rules
We are required to pick: 6 forwards, 4 defencemen, 2 goalies
You pick 3 "star" players (1 of your forwards, 1 of your defencemen, and 1 of your goalies). For those three players, you get double points for all the points they score for you (based on goals/assists for forwards and D-men, and wins/shutouts for goalies).
Each player is assigned a point value (1-4) based on how good they are predicted to be and the "salary cap" for your team is 30 points.
You can change your picks every week.
All this means that I not only have to pick a bunch of hotties, but I have to pay attention to such things as which teams is playing which other team in any given week, which hotties are on hot streaks and which ones are not. On the plus side, this is a reason to think about my hotties more often than usual!
Anyhoo, I decided that I should probably make a list of hotties from which to draw. I started by going through the leading scorers from last season, picking out the hotties, which gave me the following list to start from (format: name – team – position – # points last year):
Martin St. Louis – Tampa Bay – right wing – 99 points
Jarome Iginla – Calgary – right wing – 86 points
Brad Richards – Dallas – centre – 77 points
Jonathan Toews – Chicago – centre – 76 points
Ryan Kesler ((I don't actually find Kesler's face all that attractive, but those abs alone make him a hottie!  In fact, I wanted to just pick "Ryan Kesler's abs," but that doesn't seem to be an option.)) – Vancouver – centre – 73 points
Patrick Kane – Chicago – centre – 73 points
Ryane Clowe – San Jose -left wing – 62 points
Mikko Koivu – Minnesota – centre – 62 points
Dustin Brown – LA – right wing – 57  points
Devin Setoguchi – Minnesota – right wing – 41 points1
This didn't give me very many defenceman, so I had to go further down the list to get some of them:
Kris Letang – Pittsburgh – defence – 50 points
Shea Weber2 – Nashville – defence – 48 points
Brent Seabrook – Chicago – defence – 48 points
Alex Pietrangelo – St. Louis – defence – 43 points
From this list, I went onto the hockey pool website and made some choices. I had to do some juggling because of the stupid salary cap, but this is what I ultimately ended up with for this week:
And now in photographic form: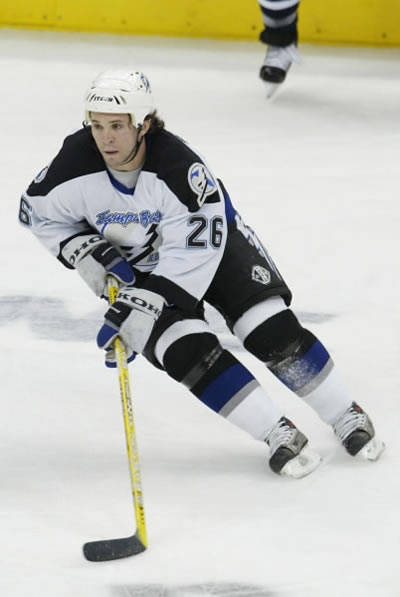 Martin St. Louis
Brad Richards
Dustin Brown
Jonathan Toews
Alex Burrows
Benoit Pouliot
Kris Letang
Shea Weber
Brent Seabrook
Victor Hedman
Pekka Rinne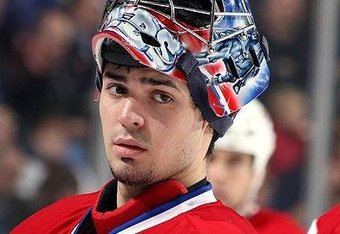 Carey Price
he's not at the top, but I had to include him as a possibility 'cuz he's so damn cute! [↩]
Only hot sans beard. [↩]
Comments |0|