Hockey Hotties – Fresh Meat 2011
I wrote the bulk of this posting on my flight home from Toronto back on June 24. But I needed to add some stuff in after the flight – stuffs that requires connection to the intertubes – and I was stupid busy once I got home, so I'm only getting to this now. This is why no one ever pays me – nor ever will pay me – to blog.
I'm watching the NHL Draft on my flight home from Toronto, thanks to the awesomeness that is live TV on WestJet flights. I'm writing this up offline, thanks to the unawesomeness that is no wifi on airplanes1. Anyway, despite the fact that we left late thanks to the baggage dudes miscounting bags and having to unload & reload them, I still managed to catch the first overall pick, just as he was getting on the stage.
Anywho, as is my custom, I am providing an in-depth analysis of the draft picks based on a single criterion: hotness.
1. Ryan Nugent-Hopkins
drafted first overall, off to the Edmonton Oilers
he's cute. Definitely cute. Plus he's a Burnaby boy. I like Burnaby boys. Cute + local + number 1 draft pick overall rounds him up to "hottie" status
2. Gabriel Landeskog
Colorado decided to take a hot Swede with draft pick #2
hard to believe this kid is only 18 years old – he looks much older than that!
verdict: SuperHottie!
3. Jonathan Huberdeau
the Florida Panthers decided to take the first non-hottie of the 2011 draft
4. Adam Larsson
the New Jersey Devils apparently did not consider hairstyles when making their draft pick. This guy's creepy hair and weird face make him decidedly a non-hottie
5. Ryan Strome
Garth Snow (no relation) and the NY Islanders drafted a not-hottie
he's from Mississauga, the city next to my hometown.
6. Mika Zibanejad
having just been in Ottawa, I was interested to see who the Senators would get in the draft and I was pleased to see they took the half-Finnish, half-Iranian cutie
he speaks Farsi, Finnish, Swedish and English. And now he's a Top 10 NHL Draft. Way to make me feel like a total slacker, Mika.
7. Mark Scheifele
the new Winnipeg team first officially revealed that they would be called the Jets, and then they took a guy that resembles Winnipeg in the winter – Not Hot
8. Sean Couturier
Philadelphia Flyers chose a non-hottie
9. Dougie Hamilton
the Boston Bruins3 took a hottie, but one who really needs to learn that a grown man should not go by the name "Dougie." While he's at it, he can tell that to Scottie Upshall.
what worries me, though, is that he sort of resembles the kid who played Malfoy in the Harry Potter movies before he turned uggoe, so there's the threat that Dougie too will lose his hottie-ness as he ages
according to the broadcasters, this guy has a 94% average in school, including a 97% in calculus! Smartness is hot.
10. Jonas Brodin
another Swede with a bad hair cut was taken in the draft, this time by the Minnesota Wild. Verdict = non-hottie.
more hockey porn from the announcers: "they got enough physical on the back end"
11. Duncan Siemens
perhaps Colorado figured they couldn't handle any more hotness after drafting super-hottie Landeskog, so they took a non-hottie in Siemens
also, this guy's last name is pronounced "semens." True story. How I wish I weren't on a flight right now so that I could tweet the hockey porn potential of this guy's name to Cath
12. Ryan Murphy
Carolina Hurricanes drafted a cutie. Way to go, Carolina!
13. Sven Bartschi
-My least favourite team, the Calgary Flames, took a someone who I can't tell if he's hot or not. When I watched on the plane, on the tiny TV screen, I thought "hottie" and in some photos from the interwebs, he looks kinda cute:
But in other photos – icky!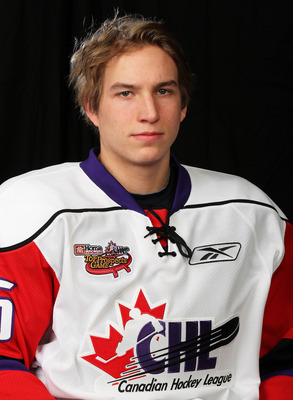 Leave it to a Calgary Flame player to be annoying like this!
14. Jamie Oleksiak
drafted by the Dallas Stars
not a hottie!
15. J. T. Miller
this uggoe is now a NY Ranger
16. Joel Armia
not a hottie was drafted by the Buffalo Sabres
best hockey porn statement from the announcers thus far: "there's a display of his hand skills"
17. Nathan Beaulieu
this cutie is off to play for the Montreal Canadiens
Holy crap! They just announced that one of my fav hotties, Devon Setoguchi, was just traded from San Jose to Minnesota. Damn you, lack of intertubes access, preventing me from tweeting @janers22 about this devastating development!
18. Mark McNeill
tragically, the hated Chicago Blackhawks took a cutie. It's such a shame my beloved Canucks will have to crush him along with fellow cuties Jonathan Toews and Pat Kane.
19. Oscar Klefbom
the Edmonton Oilers got to draft *again* and this time they took yet another hottie!
20. Connor Murphy
unlike the city of Phoenix where he's headed, this guy is not hot
Now they've announced a trade between Chicago & Washington, but I can't picture the only name in the trade  (Troy Brouwer, who was traded for a draft pick), so I'm going to assume he's not a hottie4.
21. Stefan Noeson
Ottawa got to pick again! And this time they took a very not hottie.
Anaheim trades pick 22 to Toronto for pick 30 & 39. Guess Toronto really wants someone that they think will be gone in the next 8 picks?
22. Tyler Biggs
I guess the Leafs were just dying to get this non-hottie
Brian Burke says "We like hostile players." Does he even know what "hostile" means?? I mean, I could see you liking someone who is "spirited" or "aggressive" even, but doesn't "hostile" suggest that he's a jerk?
Another trade! Detroit trades some picks with Ottawa.
23. Joe Morrow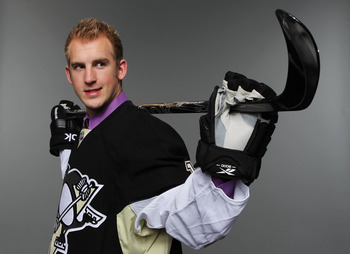 Penguins take an uggoe. Clearly, they have reached their salary cap for hotness just by having Sidney Crosby on their team.
also, his name rhymes with "tomorrow"5
24. Matt Puempel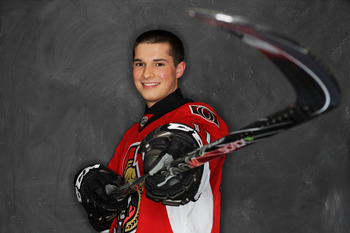 Freaking Ottawa gets to draft again?? This time they take a hottie again. I guess they are alternating between hotties and notties. Interesting strategy, Ottawa.
25. Stuart Percy
another non-hottie heading to Toronto – perhaps they are trying to corner the market on non-hotties?
26. Philip Danault
Chicago Blackhawks took a guy that I wouldn't call necessarily call a "hottie," but more an adorable little muffin! Which I guess is a *type* of hottie.
27. Vladislav Namestnikov
not a hottie
headed to Tampa Bay
28. Zack Phillips
an uggoe goes to Minnesota
29. Nicklas Jensen
*finally* my beloved Canucks get to pick someone!
and he's not half bad looking to boot! Not the hottest guy ever, but he's acceptable. It'll deem him a hottie.
30. Rickard Rakell
And last in round 1 of the draft, we have a not hottie heading to Anaheim.
So there you have it folks:
11 hotties
18 notties
1 undecided
It shall be interesting to see how many of these guys we see playing in the NHL in the next few years – and how many of them stay as hotties!
Comments |4|